LINA CUTNAM'S NEW COLLECTION "TREE OF LIFE"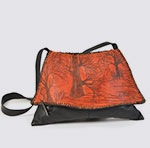 Unique leather sculptures, enhanced with pyrography, bones and precious stones, each bag is exclusive and one of a kind.
Inspired by the beauty in nature, this collection was created for women who pay attention to details and who choose originality over the normal. Yet, the designs will not be complete until you wear them.